¡Viva! – this is the motto of the Potsdamer Schlössernacht 2022. Together with our guests, we celebrate life, warm summer nights and new experiences, in the spirit of the builder – A Night Without Worry. On two days in August, the Potsdamer Schlössernacht is designed to awaken the public's zest for life and at the same time invite them to enjoy themselves. Colorful installations, national and international artists and a culinary offer for all tastes encourage to dance, celebrate and discover.
We are very much looking forward to your visit and wish you lots of anticipation.
Click on the map to enlarge
Sooner or later, they had to meet: the two Spanish circus artists David Moreno and Cristina Calleja cross their paths in a magical and mysterious show at lofty heights.
A grand piano 8 metres above the ground opens the door to a unique world where you will discover an exciting love story. Hold your breath for a moment and let yourself be carried away by the power of love. Poetic moments, dexterity, humour, music, dance, acrobatics, projections and moving pictures take you to a unique and exciting universe of dreams in the "Neues Stück" below the Orangery Palace.
Venue: Neues Stück below the Orangery Palace
photo: David Moreno & CIA
Companyia La Tal: Carilló
In 2002 the Spanish theatre company Companyia La Tal Carilló decided to revive a unique play, reusing a central element of an earlier set: the machinery of a giant clock. In the process, the boundaries between fiction and reality become blurred. What is real?
The combination of stage design and the extraordinary interpretation of comedy around the themes of love, jealousy and passion results in a unique show which is unparalleled in its presentation.
Venue: Sanssouci Palace Forecourt
Just like every afternoon, new dance steps are being rehearsed in the living room of Mr and Mrs Twistly, and just like every afternoon, things turn out differently than planned because the gramophone goes haywire once again. And what is the sock doing in the coffee cup? Dive into the funny world of the 1920s in this show and experience the bizarre everyday life of the two likeable characters who narrate the beautiful and absurd sides of life together with dance, acrobatics on the floor and in the air. A spectacle with many surprises and a touch of poetry on a red carpet for young and old. On the meadow in front of the Meierei you will experience artistry at its best in a beautiful natural setting.
Venue: Meadow in front of the Meierei
photo: Wolfgang Westerboer
There are musicians who will thrill you so much that your heart will beat faster. There are artists who amaze you so much that your mouth remains open. There are stories which are not only told but take their listeners into another world. And then there are artists who manage to do all that at once. Like Felice and Cortes, the Berlin-based duo which combines music and artistry in a unique mix. They tell the magical story of two travellers who collect stories and retell them in other places, for other people, with the help of music, show and artistry. In addition, Felice and Cortes convince with acting talent, funny anecdotes and the little red hand puppet Tom. With their drum platform on wheels and a small self-made backdrop, the duo is a real eye catcher in Sanssouci Park.
Venue: Meadow at the tea kitchen
The Incredible Duo – Roland Scull & Peter Wehrmann
The name of this INCREDIBLE duo says it all. Roland Scull (vocals and guitar) and Peter Wehrmann (beatbox and mouth bass) fascinate with two voices, a guitar and nothing else! No, a loop station is not included . . . INCREDIBLE what the two of them, just the two of them, deliver, the full enthralling power of a blues, rock, jazz, country, reggae, pop and other band with at least five members. Together, Roland Scull and Peter Wehrmann complement each other to form an absolutely unbeatable musical duo. Just the right programme for the "Holzplatz", where we cordially invite you to dance, sing along and celebrate.
Venue: Holzplatz
Carrington-Brown is a multi-lingual British music and comedy duo which has won numerous international awards. The unique couple creates a brilliant mix of music and comedy. Rebecca and Colin share with their audience tributes from pop to opera and jazz to Bollywood – charmingly and wittily interpreted! Rebecca's cello, called "Joe", will be part of the act. Look forward to a unique experience in front of the just as unique Picture Gallery!
Venue: In front of the Picture Gallery
With an antique plate camera, Mime Bastian captures the most beautiful moments of the Potsdamer Schlössernacht. Not only will he enchant you with his charming and unobtrusive manner, but he will also take playful photos in many a comical situation! The resulting "snapshots" can be accessed digitally after the event. What remains is definitely a special memory of an unforgettable evening in the beautiful Sanssouci Park.
Venue: in front of Sanssouci Palace
Rogier Kappers Singing Glasses
Why did the glass organ which was extremely popular in the 18th and 19th centuries almost completely disappear from the world? The thin, ethereal sound of the singing glasses was said to be able to induce a state of hypnosis. Some people even allegedly went mad . . . Rogier Kappers, the glass grinder, collected hundreds of cognac, wine, beer, champagne and port glasses and used them to build the only glass organ in the Netherlands. He travels around with it on a freight bike, otherwise playing on street corners, village squares and festivals. At the Potsdamer Schlössernacht he will enchant you with his singing glasses and old and new songs – from the Beatles and Bach to Brel.
Venue: Dresden Fountain
Claudio "El Compadre" (guitar and vocals) has become a sought-after accompanist on the guitar through many years of working with many flamenco dancers, but above all through intensive study stays in Spain. His rhythmic skills, his sensitivity in responding to the dance and his soloistic abilities convince audiences time and again.
The dancer Ana Sojor lived for many years in Seville and Madrid, where she received her flamenco training (among others at the famous academy "Amor De Dios" in Madrid, with Manolete, Carmen Cortes and Merche Esmeralda). Even today, she regularly travels to Spain to absorb the latest developments and trends in flamenco and thus continues her education. At the Potsdamer Schlössernacht you will have the pleasure of experiencing the talented musician and exceptional dancer live, in keeping with the theme of ¡VIVA! You are expressly invited to dance along!
Venue: Theatre Grove (near Roman Baths)
photo: Claudio El Compadre
The tradition of mariachi music is the heart and soul of Mexico. Dressed in traditional Charro costumes with silver-brushed black suits, pointed boots and wide-brimmed sombreros, the mariachi players "Mariacheros" belt out and sing of unrequited love, longing and passion, of the beauty of Mexico, of women and of macho pride. This powerful, enthralling music underlines the motto of the Potsdamer Schlössernacht and encourages you to live, celebrate and dance! You will encounter Mariachi with their joy for life again and again on your way through the Park on these evenings.
Mariachi Mexico Lindo is a traditional folklore group that has been around for over five years under the direction of Fernando Soto Salazar and the Kreuzberg-based musician Peter Schwartz.
With their vocal presence, the Mariachi are an important part of Mexican culture. They bring the authentic and traditional sounds of the guitar, the guitarron, the vihuela, the violin and the trumpets as well as the different regional styles of Mexican and Caribbean music like boleros, rancheras, cumbias and sónes from Jalisco to the Potsdamer Schlössernacht. Join us on a musical journey to the most beautiful places of the Caribbean and Mexico!
Venue: Walking act
photo: Fernando Soto Salazar
Since 1996, the musicians of Mariachi dos Mundos have been combining their musical roots from two worlds in the cultural melting pot of Berlin to create their own captivating style full of energy and joie de vivre. The fact that the band's musical roots lie in Mexico and Germany is clearly evident in the guajiras and boleros: the best mariachi culture of two worlds merges here into a style all of its own, which you can enjoy on two summer evenings in Sanssouci Park.
Venue: Walking act
The Mariachi Oro Negro are full-blooded musicians from Latin America and Japan. They have already worked in mariachi groups in their home countries. At the Potsdamer Schlössernacht they will play songs from their homeland. This includes, more particularly, the mariachi music from Mexico, such as huapangos, sones and rancheras. The Mariachi Oro Negro perform in traditional Mexican dress and play on original Mexican instruments, such as the bass guitar guitarron and the rhythm guitar vihuela. In addition, the violin and the trumpet are part of this music. In this way they create a Mexican flair in Sanssouci Park and an atmospheric musical ambience that will surround you throughout the evening.
Duo Nova is a new chamber music duo that uses innovative instrumentation to immerse itself in new worlds of sound. It is mainly dedicated to concert music from South and Central America. The instrumentation of guitar / mandolin, paired with accordion / accordin is unique and will spoil your ears. Two exceptional artists, who musically move far beyond classical music, offer a varied concert of a different kind. Let yourself be surprised!
Venue: Charlottenhof Palace
photo: Katharina Pongratz
Theatre Fencing – Workshops
Sven Richter is a trained theatre fencing teacher and invites you to join in and try out. In the theatre fencing workshop, you will learn the basics of theatre fencing (footwork and handling the weapon). Afterwards, you will take part in a small (pre-set) skirmish with a total of 12 actions and try your hand at acting techniques. A workshop that has been part of Sanssouci Park and its setting for many hundreds of years.
Venue: Sanssouci Palace
Papa Capim is a group from Latin America named after the Brazilian songbird. They will enchant you with their clear melodies and lively rhythms. Their repertoire includes styles such as samba-choro, forró, bolero, montunos and even Latin jazz and bossa nova. But Papa Capim will also whisk you away into a special musical world with own compositions.
Venue: Sanssouci Palace Forecourt
This Spanish flamenco dancer dances passionately on her high stilts. With her playing and dancing, she invites you to a fantastic, electrifying interaction. She always has her own flamenco music with her. Full of grace, she dances skilfully through the Park and provides Spanish sounds in many places, encouraging you to dance along and dream of distant cultures.
Venue: Walking act
photo: Flamenco auf Stelzen
Andreas Frey and Annegret Holjewilken have both dedicated themselves to working with the alp horn for years. It is their wish to go on a voyage of discovery to the origins of horn playing and to further develop alp horn playing with numerous compositions. With these unusual, oversized, powerful-sounding instruments, the two will take you on a journey into a world of sound that will make you dream of mountains, lakes and forests.
Venue: Hauptallee / Neues Stück
TMBM – They Might Be Minimal
Minimal music and neoclassic for two guitars. A scene that is largely dominated by pianists. In their repertoire Stefan and Willi have covers of pieces by well-known pianists of the scene as well as their own pieces.
The two musicians are united above all by their love of sound and the detailed tinkering with musical material. With TMBM they have found their playground for musical output – always striving to fully exploit the sound diversity of their instruments,
so the idea to expand the genre of guitar music resulted in something completely new, which we do not want to withhold from our guests. You may be curious.
Place: In front of the picture gallery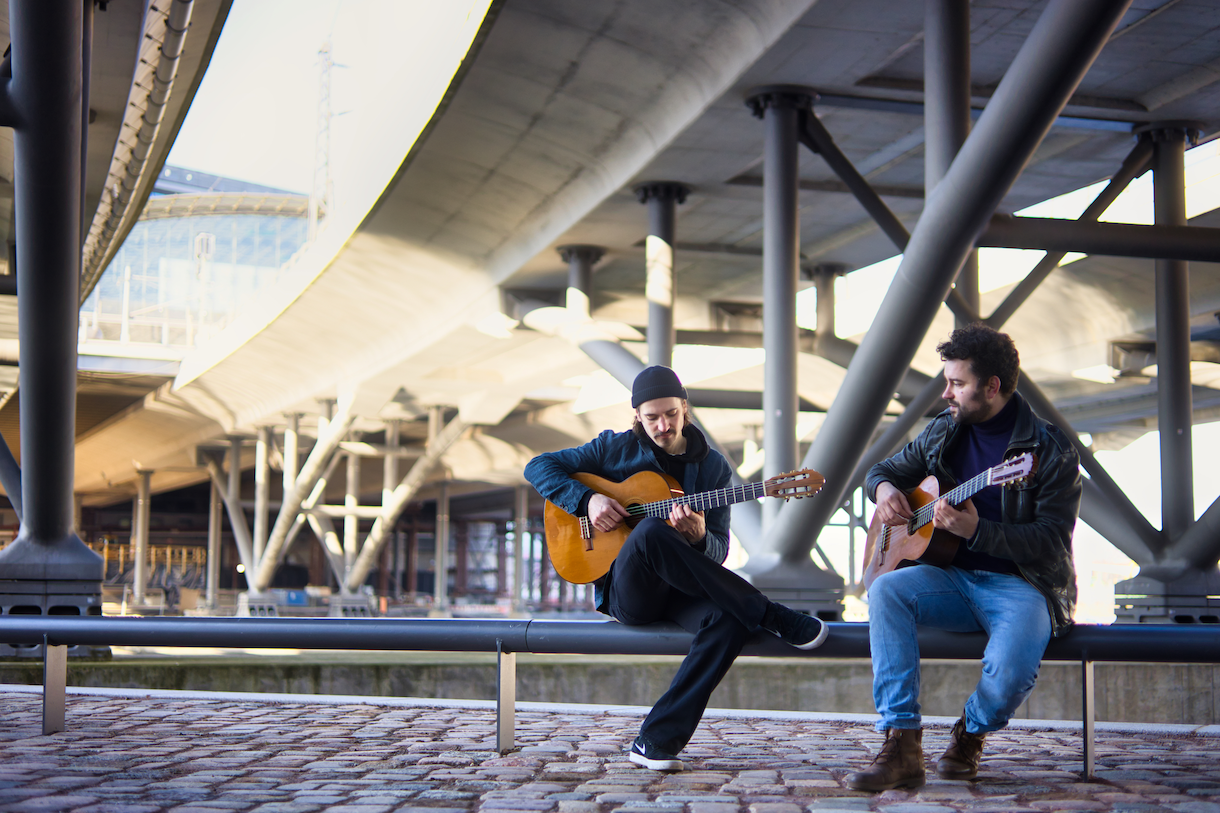 Anna Wierer and Maxim Shagaev
Anna Wierer and Maxim Shagaev take their guests on a musical journey through times, styles and eras. It goes from West to East and leads the audience through Europe and America. The program includes works by A. Vivaldi, J.S. Bach but also the famous Czardasz (V.Monti), Country, Tango (A.Piazzolla) etc. The audience will be introduced to details of the musical instruments, which are not often heard in this combination, in a funny and entertaining way.
Venue: Terrace Sicilian Garden
photo: Anna Wierer and Maxim Shagaev
The Italian trio Rosjano from Puglia and Sicily sings well-known ballads from Bella Italia. Rosanna and Francesca Torrisi sing accompanied by Marco Martino on guitar. AMORE, MUSICA E FANTASIA!
Long live the music! It inspires the spirit and awakens the joy of life. That's exactly what it gives "to the ears" – dance, laugh and enjoy.
Venue: Holzplatz
"Love, who are you?
You make one speechless, you confuse, you sweeten, you forgive.
You make me weak and strong at the same time.
You just appear without warning. I find that impressive.
I waste you and you become more. What a miracle. Sometimes I stand between the chairs, but You show me my way. Then I shine from within, because You are my lighthouse."
The Potsdam pianist Albrecht Gieseler presents in his program "Without love everything is nothing" ("Ohne Liebe ist alles nichts") love songs full of warmth, inspiration and longings, full of curiosities and small excesses.
Not kitschy, but romantic. Not funny, but humorous. Never hopeless, but sometimes melancholic.
Venue: Hauptallee / Musenrondell
The depiction of historical persons and fictional characters is intended to arouse curiosity to engage with bygone eras. Inspired by the Prussian court and the royal family of Frederick the Great, as well as the shady alchemist Allessandro di Cagliostro, the Courtly Society creates spontaneous scenes for their own amusement and above all for the pleasure of the audience. At performances and balls they amuse themselves as the nobility used to do, a journey back in time! The Höfische Gesellschaft e.V. can be found everywhere where masquerade, costuming and role-playing can immerse you in other worlds. Always according to the motto: "Not quite authentic, but imaginative and fabulous".
Venue: in front of Sanssouci Palace
Flower Power – Oakleaf StreetShow
A tribute to the Prilblume – a colorful mess – whether during the day or in the dark, whether salsa or cumbia, here no foot remains still for long and no face serious. Experience an energetic dance show that is sure to sweep you away! On the night light route, the dancing flowers appear like fireflies on the steps in front of Sanssouci Palace.
Venue: Vineyard terraces Sanssouci Palace
More program listings and the final program schedule, including performance times and locations, will follow.