Experience a lovingly arranged program of acrobatics, cabaret and music on both evenings of the Potsdamer Schlössernacht. At 10 pm and midnight there will be a brilliant, coordinated production of projections, lasers, music, fire and movement.
The live music programme of the Potsdamer Schlössernacht is supported by the Federal Government Commissioner for Culture and the Media (BKM) and the Initiative Musik.
Click on the map to enlarge
Shengnan Hu
1 | 17:15 h – 17:40 h | 18:30 h – 18:55 h | 20:00 h – 20:25 h | 21:30 h – 21:55 h | 23:00 h – 23:25 h | Schloss Charlottenhof – Music
Chinese percussionist Shengnan Hu burns with passion and explosiveness, the audience's eyes can hardly follow the frenzied whirls – a colorful, rousing percussion experience.
Anna Wierer
2 | 18:00 h – 18:20 h | 19:30 h – 19:50 h | 21:00 h – 21:20 h | 22:00 h – 22:20 h | 23:10 h – 23:30 h | Small Island at Maschinenteich – Music
Hearing the flute – Frederick II's favorite instrument – in "his park" evokes deep emotions through Anna Wierer's enchanting playing. Her musicality conveys itself immediately and penetrates deeply into the hearts of the guests. Since the Baroque period, many French composers have written for the "flûte transversale", including Hotteterre, Ibert, Francaix and Poulenc.
Papa-Capim
3 | 17:30 h – 18:00 h | 19:00 h – 19:30 h | 20:30 h – 21:00 h | 22:20 h – 22:50 h | Theaterhain – Music
Papa-Capim, named after the Brazilian songbird, plays music from Latin America. The group is small, light and full of music: a real Papa-Capim. Sit back and enjoy their rendez-vouz with lively sounds of samba choro, forró, bolero, to Latin jazz and bossa nova.
The charming Jay – A Magic Show by Jisu Park
4 | 17:30 h – 18:00 h | 18:45 h – 19:15 h | 20:45 h – 21:15 h | 23:00 h bis 23:30 h | Meadow in front of the alte Meierei
In this performance, Jisu Park, a magician from South Korea, slips into the role of the charming Jay – a figure who likes classical magic and eccentric jazz. He is a gentle magician with extraordinary skills. But every time he tries to perform a trick, he fails. Then, when he tries to cover up his mistake, another scatterbrain happens to him. Particularly when a large audience is crowded around his stage. If you take a closer look, the audience realizes that there is no casual magician standing here, but rather a clown, who seems to have originated from the silent movie era. And yet he manages – thanks to his impressive tricks – to enchant the audience in the end!
Fabuloka
5 | 18:00 h – 18:25 h | 20:00 h – 20:25 h | 22:00 h – 22:25 h | Meadow in front of the alte Meierei
A white lady enters with a wheeled suitcase. A black hand emerges from the wheeled suitcase and grows into a human figure. The lady has been given a shadow. In an acrobatic duet, the lady loses her white robes, under which she also reveals herself to be black….
Circus artists Ed and Jorga bring depth and lightheartedness at the same time. A mixture of circus theater and homemade music creates a poetic form.
Tree Projection "Medusa"

6 | 21:00 h – 01:30 h |  Selloweg/Öknonomieweg – Night Light Route
Laser Tunnel

7 | 21:00 h – 01:30 h |  Öknonomieweg, in front of the Chinese House – Night Light Route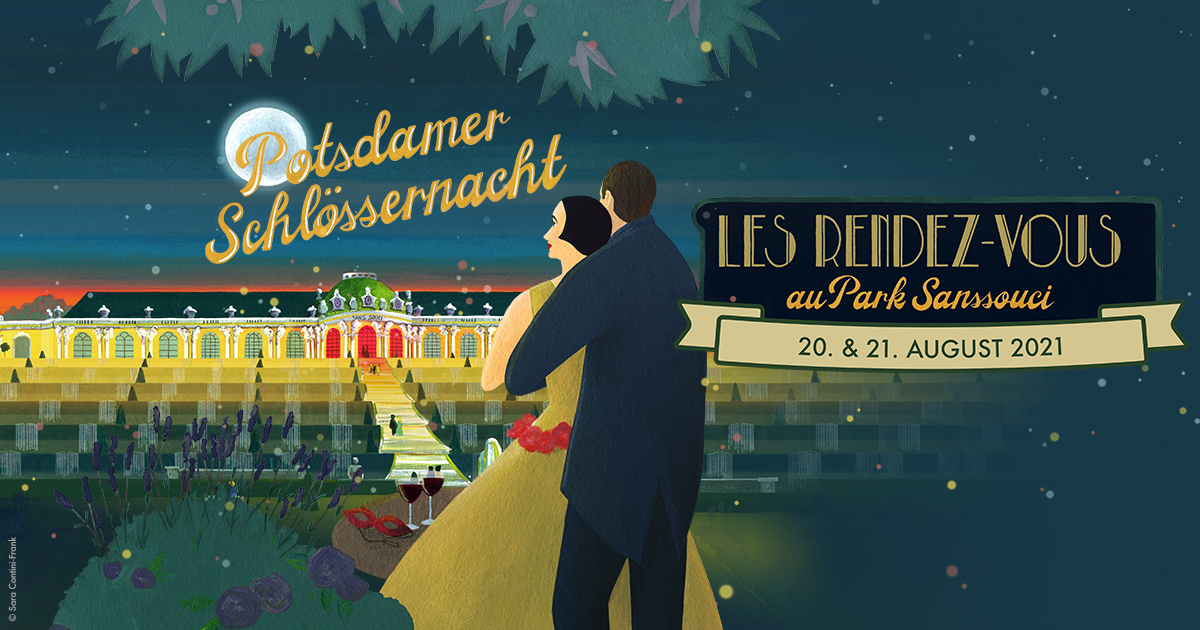 Les Mystérieuses Coiffures
8 | 18:00 h – 18:45 h | 20:00 h – 20:45 h | 22:00 h – 22:45 h | Chinese House
His barbershop? The street! In a life-size aviary, this extraordinary hairdresser awaits visitors to the Schlössernacht – including the chirping of birds and classical music in the background. In his mobile "salon" he turns women into marquises or countesses in less than five minutes for a day. With the help of the craziest accessories, a colourful, flowery, extremely creative but also ephemeral world rises up on the volunteers' heads in no time at all. Each creation is unique, a work of art that will wander around the extensive grounds of the Potsdamer Schlössernacht, visible to all visitors.
Sound Instruments by Etienne Favre
9 | 16:00 h – 01:30 h | Ökonomieweg, Near New Chambers – Children's Route
Giant sound wheels, boot flutes, sound rollers, elephant piano and much more. The sound instruments of the French artist Etienne Favre are unusual, aesthetic structures built from recycled material. They arouse curiosity, attract and invite to touch and try out. The urge to play is expressly desired here! Everywhere busy research, attentive listening, playing, amazement and laughter with young and old. It is simply fun to join in or even just watch this cheerful activity. At this station, visitors can treat themselves to a creative break and give free rein to their (inner) child.
Forest of Lights

10 | 21:00 h – 01:30 h |  Selloweg – Night Light Route
Joel von Lerber
11 | 17:30 h – 17:55 h | 19:00 h – 19:25 h | 20:00 h – 20:25 h | 21:30 h – 21:55 h | 23:00 h – 23:25 h | Dresden Fountain – Music
Anyone who has heard "The Moldau" by Smetana with the Swiss harpist Joel von Lerber is fascinated by his skill on the harp. To experience this piece in the park of Sanssouci on a beautiful summer evening has a very special charm. But also the music from the salons of the French Belle Epoque and jazz titles are part of the program of the Swiss harpist.
Felice & Cortes
12 | 18:00 h – 18:25 h | 19:00 h – 19:25 h | 20:30 h – 20:55 h | 21:30 h – 21:55 h | 23:00 h – 23:25 h | Hauptallee, Musenrondell – Music
In a unique way, Felice & Cortes tell you the magical story of two travelers who collect stories about people and things on the road and carry them out into the world. While singer-songwriter Felice gives you goosebumps with her soulful voice, drummer Cortes amazes the audience as he juggles multiple sticks and balls with ease while drumming. The story pearls are held together by funny anecdotes from the little hand puppet Rat Tom.
The Mirror – Stories about Beauty
13 | 17:45 h – 18:05 h | 19:00 h – 19:20 h | 20:30 h – 20:50 h | 21:40 h – 22:00 h | Hauptallee
A mirror table has been secretly stolen from the palace…
In absolute silence a fabulous figure is waiting behind the mirror and arouses the curiosity of the visitors. And slowly the rococo picture with table and chair starts moving and beckons one of the spectators to take a seat. What happens then cannot be foreseen!
The mirror looks like a sculpture from the rococo period. Its actions are inspired by the stories of ugliness and beauty of Umberto Eco and the colourful world of Federico Fellini. In brief: A wonderful reflection on beauty!
The Living Sofa
14 | 17:20 h – 17:40 h | 18:30 h – 18:50 h | 19:45 h – 20:05 h | 21:00 h – 21:20 h | Hauptallee
Seating furniture, sofa, bench – guests take a seat to rest and chat on it. The living couch interferes, it starts whispering, directs the conversation and tries to find out if its couch guests agree. Here everyone can sit down and be surprised what happens. It is also worthwhile for the audience to watch the action – but too much should not be revealed at this point!
Picto Facto
15 | 16:00 h – 21:00 h | Children's Route | 21:00 h – 01:30 h | Night LIght Route | In front of the Orangerieschloss
Billevesées is the name of the colourful installation by the artist collective Picto Facto. What does billevesées actually mean? It's an old-fashioned French expression that dates back to the 15th century and is best translated as nonsense or idiotic gibberish. But what is behind the installation? They are bizarrely shaped, squeaky-coloured columns several metres high, which seem to have sprung from a fantasy world unknown to us. Here, visitors are invited to linger, to exchange ideas, to chat… even if it's just silliness that's being talked about. Because a conversation between good friends is never a waste of time!
Homage to the Light – Luminous Spectacle "to go"
16 | 21:00 h – 21:05 h | 21:30 h – 21:35 h | 22:00 h – 22:05 h | 23:00 h – 23:05 h | 23:30 h – 23:35 h | 0:00 h – 0:05 h |In front of the Orangerieschloss – Night Light Route
The highlight of every Schlössernacht also moves with the times: the brilliant light spectacle, which this time brings the opulent Jubilee Grottoes at the foot of the Orangerie Palace to life after dark, can be marveled at not only twice in the evening but at every half and full hour. Delicate cones of light make the water surface shimmer until strong colors animate the walls of the grotto to a passionate flame dance. Atmospheric music caresses the ears while your eyes follow the enthralling light spectacle as if spellbound.
Fantastic Evening Production with Sol'Air "TENDANCE HOLIDAY"
17 | 18:00 h – 18:30 h | 19:45 h – 20:15 h | 22:15 h – 22:45 h | Jubiläumsterrassen
Moondance is an artistic aerial performance of the Sol'Air Company, performed by Petra Tobies and Sylvia Idelberger. In their performance the artists combine dance and artistry to create a spectacular event: a globe slowly approaches the ground. Two artists are sleeping inside it. But then they wake up and curiously explore the floor with an impressive performance: the globe rises and the artists follow it in a magical spiral. From here, a unique performance unfolds in lofty heights: visitors can look forward to elegant cloth artistry and daring balancing acrobatics at dizzying heights. A dreamlike light spectacle with music, illuminations, projections and lasers will underline the performance.
Literature in the Park – Readings
18 | 18:00 h – 19:45 h | 20:00 h – 21:45 h | western plant hall & meadow in front of the Orangerieschloss
Friday: 20.08.2021
18:00 h – 19:45 h | Benjamin Sadler reads Jules Verne: "In 80 Tagen um die Welt"
20:00 h – 21:45 h | Esther Schweins & Benno Fürmann are reading Alexandre Dumas: "Die Kameliendame"
Saturday: 21.08.2021
18:00 h – 19:45 h | Dietmar Bär reads Saint-Exupéry: "Der kleine Prinz"
20:00 h – 21:45 h | Andrea Sawatzki & Christian Berkel are reading J.M. Leprince de Beaumont: "Die Schöne und das Tier"
Further Informationen at Literatur im Park.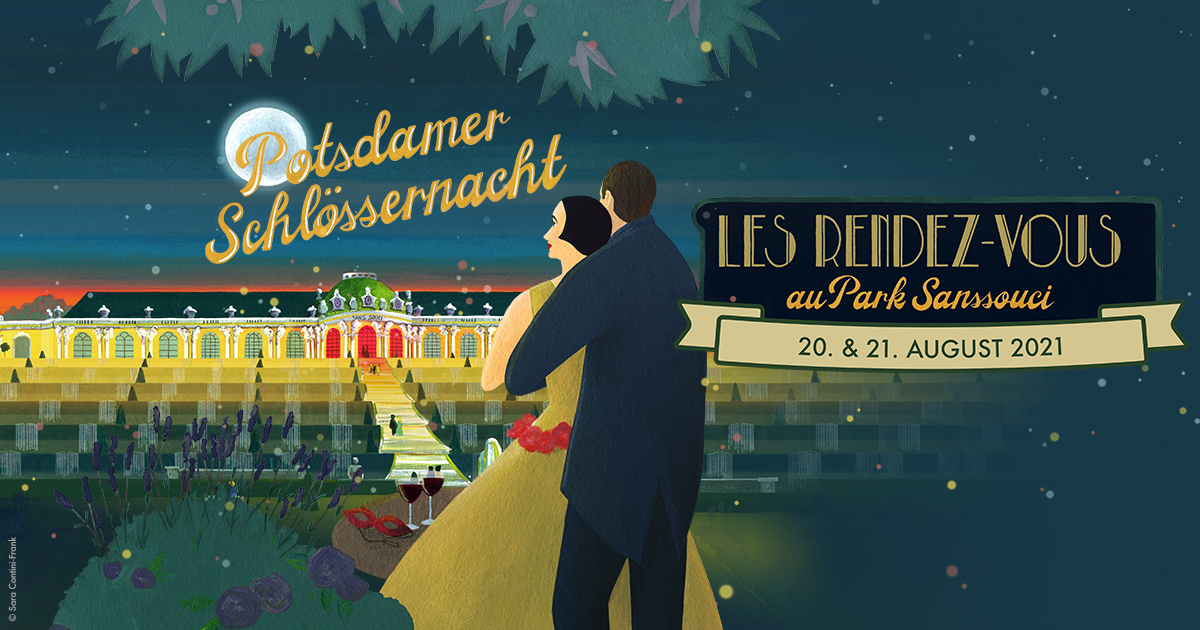 The Art of Light
19 | 21:00 h – 01:30 h | Projection on the facade of the Orangerieschloss – Night Light Route
Evgeny Beleninov
20 | 17:15 h – 17:35 h | 18:00 h – 18:20 h | 19:50 h – 20:15 h | 21:50 h – 22:15 h | 23:10 h – 23:30 h | Plateau in front of the Orangerieschloss  – Music
Evgeny Beleninov captures with his guitar a certain attitude towards life in music, which is expressed in classical music as well as in jazz and tango. A master of the classical guitar with a multi-faceted solo program that moves between Paris and Buenos Aires.
Go on Parade
21 | 18:30 h – 18:50 h | 20:00 h – 20:20 h | 21:30 h – 21:50 h | 23:00 h – 23:20 h | Maulbeerallee
From the creative pen of artist Godelieve Huijs, world champion at the World Statues Festival, comes the wonderful performance called Go on Parade. With a lot of action the art figure Go installs herself on her post.  She feels responsible for making sure that everything runs smoothly at every event. She makes sure that everyone stands in line properly and inspects the guests. She keeps an eye on everything, checks and watches. Or are there things she might not be able to control after all? With her distinctive sense for details and her incomparable, often seductive wink she mingles with the audience. 
Piaf Royal
22 | 17:15 h – 17:45 h | 19:45 h – 20:15 h | 22:00 h – 22:30 h | Maulbeerallee, Terrace Sicilian Garden – Music
The program of the duo Piaf Royal includes the immortal catchy tunes of Edith Piaf, light-footed chansons by Charles Aznavour, Jacques Brel, Juliette Greco but also current hits, e.g. by the singer Camille.  Caroline du Bled has a credible command of all the nuances of Piaf's interpretation of the repertoire, whether as a mischievous snotty brat or as a dramatic chansonneuse. In between, Caroline du Bled chats about her life in Paris and Berlin – with a charming French accent.  She is accompanied by the Berlin accordionist Sirid Heuts, who underlines the singing with her instrument sometimes tenderly and fragilely, sometimes brilliantly like a whole orchestra. A declaration of love to love… and a perfect concert for a rendezvous at Sanssouci Park!
Rogier Kappers
23 | 17:30 h – 17:55 h | 19:00 h – 19:25 h | 20:30 h – 20:55 h | 21:35 h – 22:00 h | Sicilian Garden – Music
The glass grinder Rogier Kappers collected hundreds of cognac, beer and wine glasses and created the only glass organ in the Netherlands. On his transport wheel he enchants his audience with old and new songs – from the Beatles, Bach and ABBA – with the sounds of the singing glasses.
It is said that the thin, ethereal sound of singing glasses can induce a state of trance and hypnosis…
Quidams TOTEMS
24 | 18:30 h – 19:00 h | 20:30 h – 21:00 h | 22:30 h – 23:00 h | Vineyard terrace – Night Light Route
Founded in France in 1994, the Company Quidams has already performed its literally dreamlike performances in over 40 countries. 20 artists with very different backgrounds (theater, dance, music, circus, etc.) create wonderful experiences again and again, which amaze audiences from young to old. At this year's Potsdam Castle Night, they surprise with a performance called TOTEMS – huge silhouettes that move silently between the audience, gliding gently along. With initially slow gestures they gradually become more alive and even start to dance. But one thing you ask yourself: Who are these shining shadows?
Marquis Louis Alexandre de Montignac
25 | 17:00 h – 17:25 h | 19:15 h – 19:40 h | 20:40 h – 21:05 h | 21:45 h – 22:05 h | 23:00 h – 23:25 h | Walks on the vineyard terraces

Once again this year, the musician and storyteller at the court of Frederick the Great, Marquis Louis Alexandre de Montignac will delight you with many exciting, interesting and funny anecdotes about the "Old Fritz" as well as with music from that time, on his very rare, and with a special sound equipped, baroque lute. You will also learn about the exciting history of this instrument.
You will learn, among other things, what the comma and the dot in the lettering Sans, Souci. means, why there are always fresh potatoes on the grave of "Old Fritz", and why he had counterfeit money printed and coin stamps stolen. You will also learn about his relationship with the Potsdam miller Grävenitz, how magnanimously but also ironically Frederick reacted to petitions from citizens addressed to him, and many more amusing and enjoyable things. So take some time, and linger for a while below the lettering Sans, Souci. at the castle. and you will learn many things that are still unknown even to experts.
Theatre Fencing Glashütte
26 | 17:30 h – 18:00 h | 18:30 h – 19:00 h | 20:00 h – 20:30 h | Sanssouci Palace – Children's Route
The group of enthusiastic fencers has already existed for 14 years and unites a very special passion. With their impressive fencing choreographies they take the audience with them into an epoch in which noble fighters settled their differences of opinion with the sword. Each performance offers a self-contained plot, in which not only is fencing fought, but also one or the other skirmish, punches and throws are used. Visitors to the Potsdam Schlössernacht will not only have the opportunity to witness the wild goings-on – the performers and fencing experts will also offer workshops in which the basic rules of this stylish sport will be taught.
Pole Acrobatics with Noah Chorny
27 | 18:00 h – 18:15 h | 20:30 h – 20:45 h | 22:30 h – 22:45 h | Ehrenhof Sanssouci Palace

An acrobatic roller coaster ride, with ups and downs: a slightly drunk and clumsy man decides to turn on the city's lanterns. But he has already looked too deep into the glass, which really helps his talent for mischief and nonsense. To make matters worse, he chooses the only lantern that is even wobblier on his feet than he is. Both of them stagger and rage at a height of six metres and swing incredibly far on the thin pole over such an enormous distance that everyone asks themselves: Why doesn't it break? And why doesn't he fall over? But these are the secrets of the Drunken Master.
River Rats
28 | 17:15 h – 17:45 h | 19:00 h – 19:30 h | 21:00 h – 21:30 h | 23:15 h – 23:45 h | Sanssouci Palace – Music
From the depths of the Spree come the River Rats! They pull two guitars, double bass and violin through the tunnels of Berlin for their moonlit sessions. Influenced by the reduced lines of Django Reinhardt, the heart of Varieté Française and the spirit of country and blues of old, the River Rats wander between the ragged niches of Kreuzberg and glamorous theatre. With members from France and Germany they connect the North and the South, there are dark and light moments, contemplation and euphoria.
Theater Marsha Cox "Jean Baptiste Molière: Sgaranelle"
29 | 18:00 h – 19:00 h | 20:00 h – 21:00 h | Stairs in front of the picture gallery
Director Marsha Cox and her wonderful troupe of actors and actresses thrilled us with Shakespeare at the 2019 Castle Night, and now they are taking on the greatest French stage dramatist: "Sgaranelle" (first performed in 1660) is one of Moliere's most popular comedies, a fast-paced confusion play about the trials and tribulations of two couples who get really lost in jealousies, supposed love deception and mutual suspicions.
This masterly stage work, characterized by both theatrical and platitudinous slapstick as well as a deep understanding of human nature, was, surely not without a deeper reason, one of Louis XIV's favorite plays. And yes, as is so often the case with Moliere: here you can laugh heartily!
The Art of Light
30 | 21:00 h – 01:30 h | Projection on the facade of the picture gallery – Night Light Route
Oni Maurer "Stories from the Kurbelkoffer"
31| 17:15 h – 17:35 h | 17:45 h – 18:05 h | 19:15 h – 19:35 h | 19:45 h – 20:05 h | 21:15 h – 21:35 h | 22:00 h – 22:20 h | 23:00 h – 23:20 h | Neptune's Cave – Children's Route
An antique suitcase, a coffee grinder and dreaming seashells. I wonder what the sea creatures from Oni Maurer's Kurbelkoffer have to tell us? They bring the visitors exciting stories of life under water! The secret world under the water surface is examined closely: What happens when jellyfish meet unknown, new types of roommates, or when a fish falls in love with a plastic bottle? A picture-rich listening experience for young and old, which goes far beyond sinking into the sound of the sea.
Pippifax
32 | 18:00 h – 18:40 h | 20:00 h – 20:40 h | 21:30 h – 21:50 h | 23:00 h – 23:20 h |  Hauptallee, Little Fountain – Children'S Route
Pippifax bubbles is the princess of bubbles. She conjures up her palace of floating, iridescent rainbow soap bubbles that soar into the sky.
When night falls, her bubble creations will transform into explosions of color and together create a frenzy of swirling joy in a play of light and color.
Le Mime Bastien!

33 | 17:15 h – 17:55 h | 18:15 h – 18:55 h | 19:15 h – 19:55 h | 20:15 h – 20:55 h |  Hauptallee, Big Fountain
Equipped with an antique plate camera, Le Mime Bastien! walks through the park as a charming photographer. Searching for the right motifs and playing with the guests, he not only creates funny photographs, but also many a funny situation!
With a lot of wit and charm he convinces even the biggest camera enemies to stand in front of the lens of his mobile photo box. The resulting snapshots are then available as a souvenir of their rendez-vous au Park Sanssouci in the online gallery of the Frenchman.
French Flair

34 | 17:15 h – 17:40 h | 18:00 h – 18:25 h | 19:00 h – 19:25 h | 21:00 h – 21:25 h | 22:00 h – 22:25 h | Sanssouci Bridge – Music
Even though Potsdam is not located on the Seine, the accordion sounds of a romantic evening in Paris permeate the park. Listen to the music of Kirsten Mögelin (Friday) and Natalie Bauer (Staurday) on your walk through Sanssouci.
Subject to modifications.